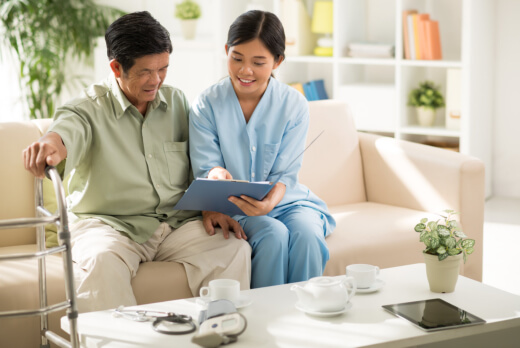 Medication safety is a crucial factor in a senior person's quality of life. Because of the plethora of medications they take, they can be at risk of non-adherence. This happens when an elderly person is not able to take their meds in the appropriate way or as prescribed
As a non-medical home care provider, we are here to help promote the quality of life of your aging loved ones at home. For that reason, we also advocate for medication safety. Here are four easy steps you can follow so that you can ensure medication safety for your aging loved one.
Comply with Prescriptions
Prescriptions are almost inevitable. Medications purchased over the counter have accompanying instructions at the label or from the pharmacist.Ensure that they follow these instructions, such as dosage, intake frequency, and timing. Compliance prevents over-dosage or under-dosage, both of which are harmful to their health.
List their Medications
If you need help in creating this list, our providers of home care in Twinsburg, Ohio can step in for you. What should you include in the list? Write the medication name, purpose, dosage instructions, and other relevant information. This list can help monitor your loved one's reactions to certain meds.
Know Drug Interactions
Taking many medications can put your loved one at risk of drug-to-drug interactions. If there's a new medicine that they need to take, ask the doctor if this doesn't have any undesired effect or reaction with their other meds. Some foods and beverages can also react to their medications. So, know which ones to avoid.
Talk with the Doctor
If ever you have urgent concerns with your loved one's medications, always discuss these with their doctor. They can advise you on what follow-up steps to take to ensure their safety and wellbeing.

We hope the tips are helpful! If you also need extra hands in caring for your loved one, we can provide you with respite care services in Ohio. Ask us about this at Covenant Home Care LLC or visit our website at www.covenanthomecarellc.com.