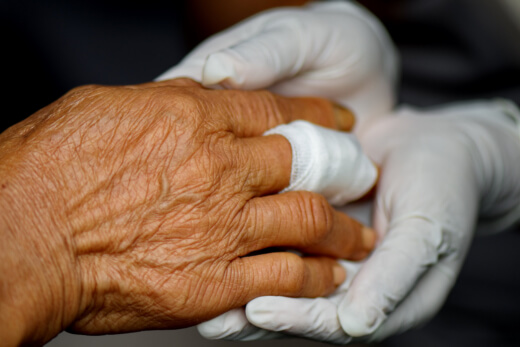 Usually caused by aging, sun exposure, and genetics, fragile skin is a known case among elderly people; a form of drawback. It makes their wound healing process a bit complicated, often resulting in scar tissue, minor infection, and skin's inability to repair itself quickly. It requires supervision. Further skin problems may occur if not properly handled by a non-medical home care staff or a family member.
There are two types of wounds: acute and chronic. Acute wounds heal predictably and treatment at home is possible, like controlling the bleeding (if present), cleaning and dressing the affected area, and taking pain medication.
On the contrary, wounds that do not heal after three months are already considered chronic and may never heal or may take years to do so. This needs the immediate attention of a well-trained medical professional who can ensure the treatment and healing of your loved one.
We understand that conditions like these can inflict emotional and physical stress on your elders — especially if they're no longer capable of being independent. We want to extend our assistance. If your seniors are recovering from an injury, a chronic wound, or any other illnesses, Covenant Home Care LLC is a trusted provider of home care in Twinsburg, Ohio. Our team of caregivers is equipped to deliver exceptional elder care and support to all our clients. Give us a call today!
For guardians who wish to take a much-needed break, we also offer respite care services in Ohio.